Come out and See God Work as we present SINACH- Night of Worship USA!
Join international recording artist and worship leader Sinach, for an unforgettable night of worship with a stellar cast of guest artists worshiping God with one voice in a captivating, inspiring and anointed atmosphere filled with the presence of God!
A night of Worship with Sinach is a Concert You Don't Want To Miss Out on… You will Worship, be Inspired and Leave this Concert with a new Song.
Sinach is greatly motivated with the desire to see her songs, writings, and concerts inspire the church and the whole world to worship God and be lifted, healed, and develop a deeper relationship with God, and for her listeners to be filled with the Glory of God through her music.
**October 2nd @ 6pm Prompt..** Doors open at 5.30pm
Venue– DCH 1203 Cravens Road, Stafford TX
For Sponsorship please Contact Susan @ 832-361-6691
Make Sure to come with your Friends & Family. See You There!!!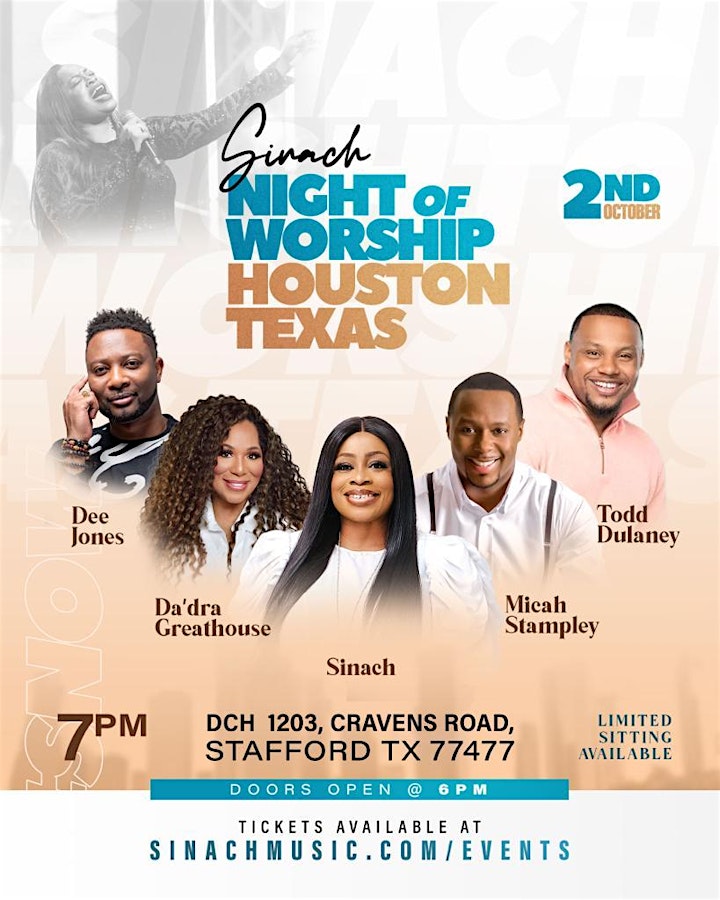 Watch the Original and Official video of Way Maker, written by Award Winning Songwriter, SINACH. The song has been translated to over 50 languages and covered by many artists all around the world. It is also the theme song sung in many languages that brings hope and faith to many in distress.